To recognize outstanding achievement, The Royal Canadian Geographical Society annually presents a number of medals and awards to deserving individuals.
The Society welcomes nominations from the public.  Nominations for the Massey Medal, the Gold Medal and the Martin Bergmann Medal are reviewed by the Awards Committee, the Sir Christopher Ondaatje Medal for Exploration nominations are reviewed by the Expedition Committee, while the Alex Trebek Medal for Geographic Literacy and the Gilles Gagnier Medal for Innovation in Geographic Education are managed by Canadian Geographic Education.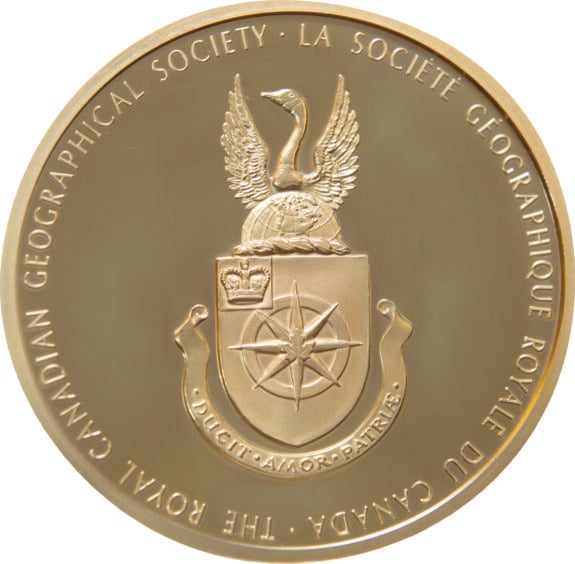 Massey Medal
The Massey Medal was established to honour those who have contributed to the exploration, development or description of Canada's geography.
2022 recipient: John H. England
Awarded to Professor Emeritus John H. England (University of Alberta), a distinguished scientist for his contributions to environmental change in the Arctic region from the last Ice Age to the current period.
2021 recipient: Dr. Yvan Bédard
A geomatics engineer and pioneering researcher in geographical/geospatial science, Dr. Yvan Bédard has changed the way we think about geospatial data — from creating better database design to enhancing data definition. The energy Dr. Bédard brought to his career in geographic data modelling has persisted into his passion for fine art landscape photography, in which he seeks to educate people about Canada's geography and advocate for protection of the environment. 
2021 recipient: Dr. Barbara Sherwood Lollar
Geologist Dr. Barbara Sherwood Lollar has advanced our understanding of the history of Earth's geography. From the billion-year-old water that Dr. Sherwood Lollar collected from deep beneath the surface of the Canadian Shield to her research into the microbial communities in the deep gold mines of South Africa, her work is transforming our understanding of Earth science.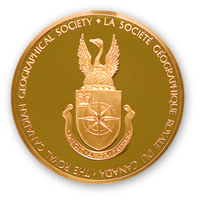 Gold Medal
The Gold Medal was created to provide an opportunity for the Society to recognize a particular achievement by one or more individuals in the general field of geography; or a significant national or international event.
2022 recipient: Dr. Joseph MacInnis
A physician and scientist, who has developed innovative diving systems, which were used to explore the world's oceans.
2022 recipient: Mark Pathy
A businessman, philanthropist and astronaut for his generous support for Society programming.
2022 recipient: Joshua Kutryk
Canadian astronaut, RCAF lieutenant colonel, and engineer for his contributions to exploration and Canada's space program. 
2021 recipient: Students On Ice Canada C3
In recognition of the organization's leadership, engagement and inspiration of youth in polar education.
2021 recipient: Sara Seager
In recognition of her incredible work exploring the frontiers of our universe. Seager is a global leader in the study of exoplanets — the planets lying beyond the realm of our own solar system. She may well be "the woman who might find us another Earth," according to the New York Times. 
2021 recipient: Jenni Sidey-Gibbons
Sidey-Gibbons is the third Canadian woman and youngest Canadian to become a NASA astronaut. While studying in the U.K., she co-founded the Cambridge chapter of Robogals, an international organization to encourage young women to get involved in STEM subjects reaching over 3,000 girls in that country.
2021 recipient: William Shatner
An internationally recognized philanthropist, actor, author, musician, director and producer, Shatner received the Gold Medal for his body of work.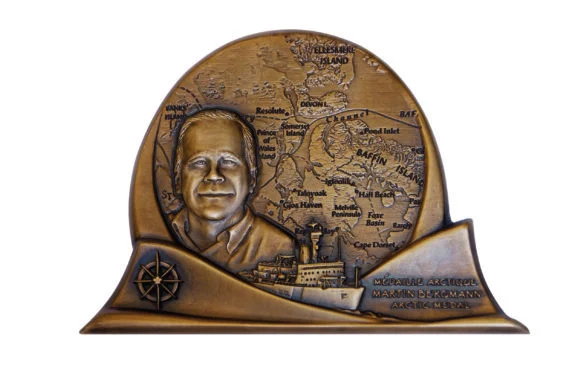 Martin Bergmann Medal
The Martin Bergmann Medal, established in 2012, recognizes achievement for "excellence in Arctic leadership."
2022 recipient: Christopher Burn 
A professor at Carleton University for his leadership in long-term permafrost investigations in the Canadian Arctic, as well as mentorship of young scientists and community partnerships with northern communities and organizations.   
2021 recipient: Trevor Bell
A professor of geography at Memorial University of Newfoundland and a field scientist with a geographical focus in Arctic and Atlantic Canada, Bell is the founding director of the innovative SmartICE program, which trains Inuit youth in the use of satellite imagery and local knowledge to make maps for safer travel on sea ice.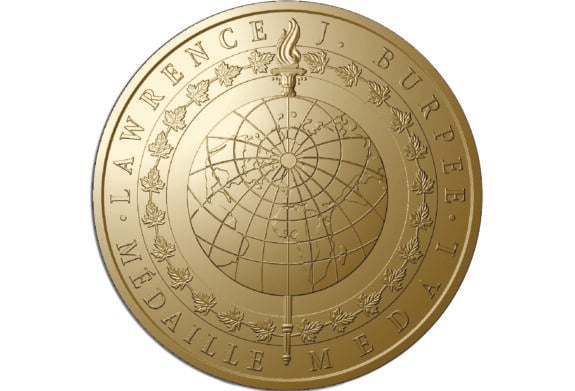 Lawrence J. Burpee Medal
Awarded to recognize an outstanding contribution or other achievement that greatly enhances the ability of the Society to fulfill its mission of making Canada better known on a national or international level, and/or contributes to the general advancement of geography.
2021 recipient: Maydianne Andrade
Recognized in the science community for her expertise on the mating habits of spiders, Andrade is also well-known for her advocacy work towards racial equity in STEM.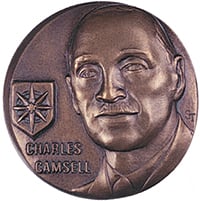 Camsell Medal
The Camsell Medal recognizes outstanding volunteer service to The Royal Canadian Geographical Society. Only RCGS Fellows may nominate individuals for the Camsell Medal.
2022 recipients: Lynn Moorman and Gavin Fitch
Awarded to Moorman, a professor at Mount Royal University for her dedication to the Society in the roles of Governor and Can Geo Education Executive, and creating learning resources used in educational outreach and to Fitch for his service to the Society as Governor, Vice President and two-term President, in addition to serving as a member on a number of committees. 
2021 recipients: Alison Gill and Susan Taylor
Gill is a former governor and committee member. Taylor has designed and produced many of the Society medals featured here.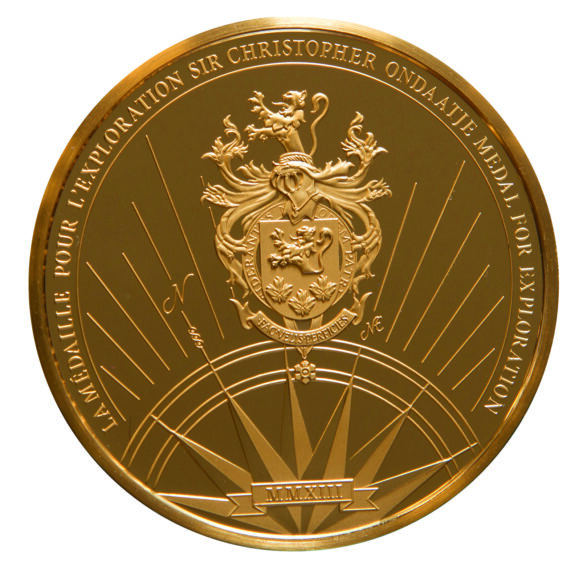 Sir Christopher Ondaatje Medal for Exploration
Established in 2013, the Sir Christopher Ondaatje Medal for Exploration recognizes singular achievements and the pursuit of excellence by an outstanding Canadian explorer or a non-Canadian for exploratory achievements within Canada.
2022 recipient: John Baldwin
A ski pioneer, who has explored and documented the landscape of the Coast Mountains of B.C., increasing international awareness of the area through his writing.
2021 recipient: Jacqueline Windh
Windh is a geoscientist, athlete, photographer and author. She is currently writing The Food Garden book series aimed at aspiring gardeners who want to maximize their ability to produce their own food.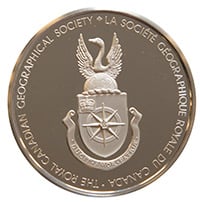 Joseph-Elzéar Bernier Medal
The Joseph-Elzéar Bernier Medal, established in 2014, recognizes an exemplary deed or activity that has enhanced or aided the Society in fulfilling its mandate at the international, national, provincial or headquarters level.
2021 recipient: Cory Trépanier
Cory Trépanier was an artist, filmmaker, explorer and entrepreneur who passed away on Nov. 5, just weeks after he was awarded the Bernier medal. Trépanier had recently launched the limited-edition coffee-table book Into the Arctic: Painting Canada's Changing North. He had noted that through conveying "the sense of wonder and awe I have when I'm out there," he hoped his work would inspire efforts to preserve and protect the fragile Arctic ecosystem and the way of life of the North's inhabitants.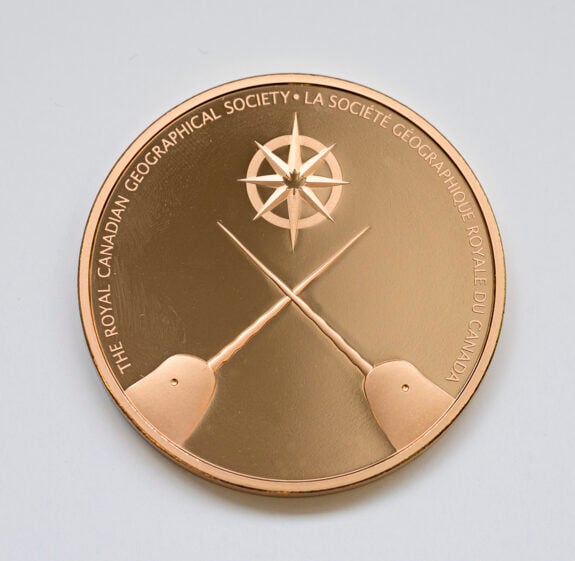 Louie Kamookak Medal
The Louie Kamookak Medal: A distinction named for the Inuit historian and educator, awarded by the Society to any person or organization which has been brought to the attention of the Executive Committee, Awards Committee, or to the CEO, as having made Canada's geography better known to Canadians and to the world. It is also awarded for a noteworthy deed that has served to advance the discipline of geography.
2022 recipient: Antoine Normandin
A geographer who has been an active member of the Fellows Committee and instrumental in maintaining up-to-date information on the Fellows of the Society.
2022 recipient: David Kajganich
An American screenwriter, for his work on The Terror, a fictionalized account of Captain Sir John Franklin's lost expedition of 1845-1848.
2022 recipient: Russell Potter
A Franklin expedition scholar and author of two books on the subject.
2022 recipient: Geir Kløver
An expert on Norwegian polar history and director of the Fram Museum in Oslo.
2022 recipient: Adam Shoalts
Bestselling author and Westaway Explorer-in-Residence with the Royal Canadian Geographical Society.
2022 recipient: Alanna Mitchell
A science journalist, playwright and contributing editor to Canadian Geographic.
2021 recipient: Sylvain Voyer
Known for his rural landscape paintings, Voyer was a leading force in championing Alberta's provincial art collection and is a founding member and the inaugural president of the Canadian Artists' Representation.
2021 recipient: Kathy Dembroski
Dembroski is the co-founder of Canada Blooms and a strong supporter of the Toronto Botanical Gardens and the Canadian Canoe Museum.
2021 recipient: Gaajiiaawa Linda Tollas
Gaajiiaawa Linda Tollas of Haida Gwaii is renowned as a seeker and sharer of ancestral knowledge, an educator on Haida culture and an interpreter. 
2021 recipient: Gurdeep Pandher
With a smile as infectious as his Bhangra dance moves, Pandher brings joy, hope and healing to newsfeeds across Canada and beyond. He was recognized for the national impact he has had by bridging cross-cultural divides, promoting inclusivity and spreading optimism and joy during the dark days of the COVID-19 pandemic.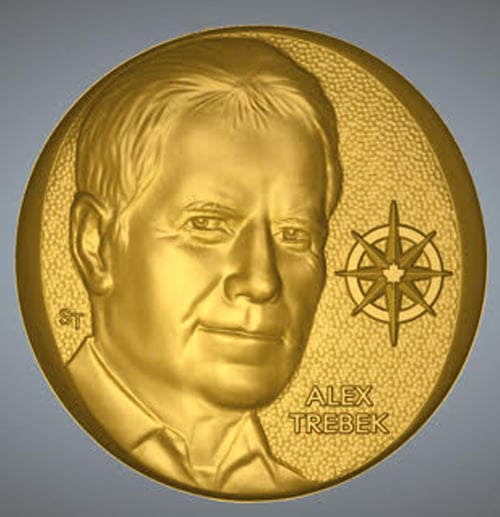 Alex Trebek Medal for Geographic Literacy
Many people work beyond the expectation of their professions toward heightening geographic literacy. This award is to recognize and honour their contributions.
2022 recipients: David Hik and Zac Robinson 
Awarded to Hik, a professor at Simon Fraser Univeristy, and Robinson, a professor the the University of Alberta, for the development and teaching of the highly rated Massive Open Online Course entitled Mountains 101.  
2021 recipient: Randall Wilkie
With several decades of experience in teaching geography at the high school level, Wilkie has spent the last 20 years imparting his knowledge to new teachers as a lecturer of geography methodology at Lakehead University in Thunder Bay, Ont.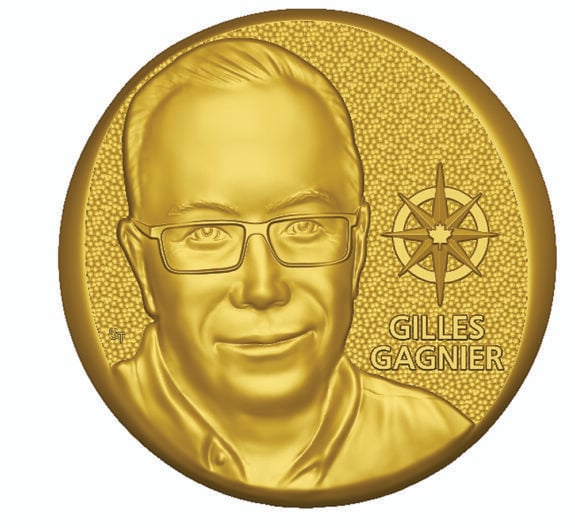 Gilles Gagnier Medal for Innovation in Geographic Education
Previously called the Innovation in Geography Teaching Award, this award honours the memory of Canadian Geographic publisher and COO Gilles Gagnier, who passed away unexpectedly on Sept. 10, 2021. The award recognizes an inspirational educator who is committed to advancing geographic literacy through innovative teaching and learning strategies.
2022 recipient: Sarah Gallah
A secondary teacher in Toronto, for her advancement of geographic literacy through innovative techniques, including coding, to address climate change issues.   
2021 recipient: Margaret Leland
Alberta-based educator Margaret Leland emphasizes the importance of mapping skills and geospatial knowledge as a way to get students curious about the world beyond their hometown. Leland challenges her students' perspectives and helps them to understand their place in the world, both geographically and experientially. 
Awards committee members
John Iacozza (Chair), Dianne Draper, Chris McCreery, Wayne Pollard
Education committee members
Paul VanZant (Chair), Michel Emery, Ewan Geddes, Christy Harrick, Paula Huddy-Zubkowski, Jennifer Leduc, Lise Martin-Keilty, Kelley McClinchey, Janet Ruest, Anne Smith, John Thompson, Connie Wyatt Anderson
Expedition committee members
Zac Robinson (Chair), TA Loeffler (Vice-Chair), John Pollack (Past Chair), Jean-Marie Beaulieu, Lisel Currie, Jill Heinerth, Priidu Juurand, Helen Sovdat