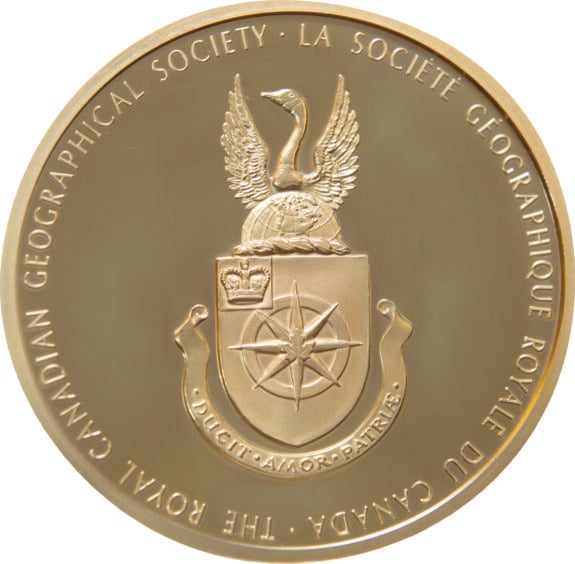 The Gold Medal of the Society was first bestowed in 1972 to honour the International Geographical Union (IGU) for choosing Canada as the venue of its 22nd International Congress, and to recognize the achievements of the IGU President.
That award clearly illustrates the purpose for which the Gold Medal was created: to provide an opportunity for the Society to recognize:
a particular achievement by one or more individuals in the general field of geography; or
a significant national or international event.
In the case of the second, the Medal is awarded to an appropriate individual or group of individuals representative of the occasion. Normally, the special achievements or events for which the medal is awarded are well known. No regular interval (annual, biannual, etc.) is established for the awarding of the Gold Medal. It is presented whenever the Society's Board of Governors decides its bestowal is appropriate to recognize a particular achievement or event.
The time, place and program of the ceremony to present the Gold Medal is decided by the Board of Governors after careful consideration of the circumstances surrounding the event or achievement for which the Medal is being awarded.
Looking to nominate someone?
How to nominate
Please look outside your organization, as well as within, when considering who might be an outstanding nominee. In considering suitable nominees, you are encouraged to be inclusive, in respect to gender and the diversity of Canadians. You may submit one or more nominations for the medal using the form at the bottom of this page.
Nominations are accepted annually until March 15. 
The Committee will retain nominations under consideration for a period of three years.