The story of The Royal Canadian Geographical Society's early years is one of success against the odds.
In 1929, when a group of 28 eminent Canadians founded an organization that was to champion a deeper knowledge and appreciation of Canada's immense geography, none could have imagined that the nation was on the doorstep of the Great Depression. Nevertheless, from its first formal meeting in January 1930, the Society captured the attention and imaginations of Canadians, even through dire economic times. That was a feat in itself, as it began without a private endowment or guaranteed source of income and was intended to be "popular in character," open to all for a membership fee of a mere $3 per year.
In a sense, that notion of broad accessibility belied the eminent nature of many of the Society's first directors (pictured above). Among them famed explorer, cartographer and geologist Joseph Burr Tyrrell, ethnographer and folklorist Marius Barbeau, now considered a founder of Canadian anthropology.
By May 1930, the Society had published the first issue of the Canadian Geographical Journal.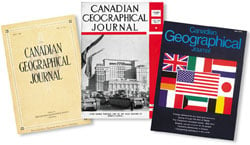 The first issues
The first issue of Canadian Geographic — then the Canadian Geographic Journal — had much of the same diverse content you'd find today.
The first issue supported Canada's visual arts, as the magazine continues to do today. Dr. F. G. Banting accompanied Group of Seven painter A. Y. Jackson to the Canadian Arctic and brought back sketches and paintings that were published in the Journal.
It was also in that issue that the now familiar Society mandate "to make Canada better known to Canadians and to the world," were recorded by Lawrence J. Burpee, founding editor. Burpee, a prolific author and the first Canadian Secretary of the Joint Commission, which settled boundary disputes between Canada and the United States, guided the publication through its first years.
The journal caught hold and flourished by the same passion for scientific and geographical knowledge and the spirit of endurance that was embodied by the Society's explorers.