Canadian Geographic Adventures engages with Canadian people, places, frontiers and conversations that are meaningful and connect us with learning and a sense of our place in the world.
Discovering and exploring are key pillars of the Royal Canadian Geographical Society, as demonstrated through our support for young explorers and strong partnerships with like-minded national and international organizations. Over the years, the Society has collaborated with a variety of travel partners in efforts to bring experiences off the pages of Canadian Geographic magazine and into the field through Ambassador-led, custom-curated travel experiences. We invite you to join us on a Canadian Geographic Adventure.
Designated Travel Collection
With a focus on supporting domestic tourism, Canadian Geographic is collaborating with trusted Canadian travel operators across all 13 provinces and territories to deliver our Canadian Geographic Adventures within a Designated Travel Collection. With a commitment to deliver exceptional travel experiences sure to broaden even the most expansive minds, Canadian Geographic Adventures embraces the ethos and priorities of the modern day adventurer, recognizing the importance of sustainability. Those who choose to travel alongside Canadian Geographic Adventures are embraced by the fabric of place, the warmth of people and the diversity of culture on every voyage.
Travelling with purpose and driven by curiosity, guests support local economies, learn and become part of a sustainable travel experience and build memories to last a lifetime — all while supporting trusted Canadian travel operators and the Royal Canadian Geographical Society through every booking.

Our Ambassadors
Canadian Geographic Adventures feature a notable Canadian Geographic Ambassador, selected from within RCGS and Canadian Geographic programs, such as Explorers-in-Residence, Photographers-in-Residence, Filmmakers-in-Residence, the RCGS Board of Governors and the RCGS College of Fellows. The Ambassador is an additional resource alongside exceptional local guides who deliver the program through our travel partners. The guest experience is further enhanced by a pre-voyage virtual meet-and-greet, customized digital libraries from the Canadian Geographic vault, a Canadian Geographic welcome package and a warm welcome into the Canadian Geographic family.
We are proud to answer the call of Canadians and their interest in learning about, appreciating and becoming part of the cycle of regenerative tourism. We continue our mandate to make Canada better known to Canadians and to the world, both at home and in the field, providing opportunities for our readers, members and friends to connect with the stories they read about and build real life memories. A portion of every Canadian Geographic Adventure booked goes directly back into supporting important Canadian Geographic and RCGS programming.
Travelling with purpose has never been so rewarding. 
Meet the RCGS Travel Ambassadors
Here are just a few of the Ambassadors who will join travellers on Canadian Geographic Adventures: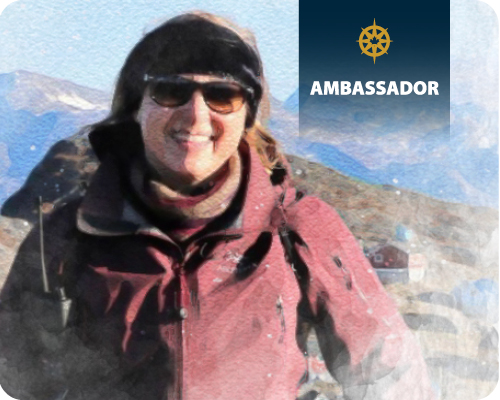 Lynn Moorman is a lifelong geographer who has always loved exploring remote landscapes and environments. Today she shares that passion as an avid educator and volunteer. Lynn is a Professor in the Department of Earth and Environmental Sciences at Mount Royal University, in Calgary, Canada.  Her teaching and research interests lie at the intersection of geography, learning sciences, and applied visualization technologies, including virtual and augmented reality. 
Lynn's work has taken her to the highlands of northern Vietnam, to map agricultural productivity, to the frozen Arctic Ocean where she works with Inuit in Canadian Arctic communities to use near-real time satellite imagery to keep ice travel safe. As an expedition staff with Adventure Canada, Lynn also regularly explores Canadian and European Arctic landscapes and communities.
Lynn contributes to national and international geography education organizations including Canadian Geographic Education, National Geographic, the International Geography Olympiad (iGeo), and is a Canadian representative for the International Commission on Geographic Education. She conducts numerous invited presentations and keynotes around the world about geography and geographical education, and is a Fellow, former Board member, and current Chair of the Research Committee of the RCGS. 
Lynn recently received her university's Distinguished Faculty Award, a Research Recognition Award, the Canadian Association of Geographers (CAG) President's Award and is the 2022 recipient of the CAG National Teaching Excellence Award. When not on a ship or in the classroom, Lynn can be found travelling the world in pursuit of more geographic knowledge and great experiences!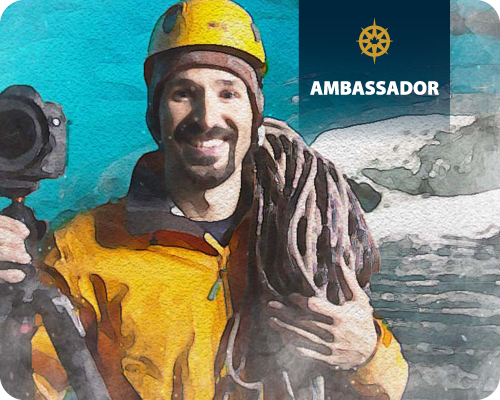 From the peaks of the Canadian Rockies to iceberg-laden seas off the coast of Greenland, Paul's journey to capture the "under-documented" is a testament to his passion for exploration, his creative vision and fierce sense of determination. These qualities, combined with his pursuit of fresh perspectives and a deep love for the landscape, have resulted in an ever-growing portfolio of cutting-edge images.
Whether it's wading waist-deep into a glacier-fed lake or chasing auroras from dusk til dawn, Paul is known for an adventurous spirit that draws him to the extraordinary. Highlighting his collection are his signature self-portraits, epic mountaineering moments, dreamy astrophotography images, as well as a window into some of the most remote corners of the planet.
Paul's images have been featured on countless book covers and in a variety of highly regarded publications, including National Geographic, Maclean's, Alpinist, The Huffington Post, The Guardian, Canadian Geographic, Islands, PhotoLife, and explore. His client list includes leading national and global brands such as Canon, Apple, Dell, Arc'Teryx, Panasonic and MEC. His book on aurora photography in the Canadian Rockies is due for publication Spring 2022 and he is an honoured Fellow of the Royal Canadian Geographical Society.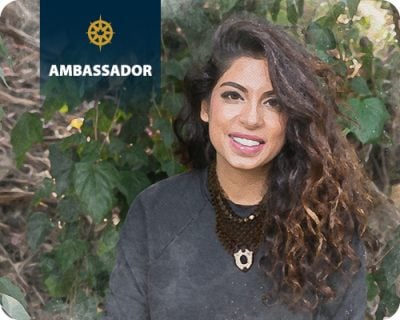 Aliya Jasmine is an award-winning television host, producer, and environmental journalist (M.A.) and Fellow of the Royal Canadian Geographical Society. You can currently watch her on various platforms for NBC News in Los Angeles. She is also the co-founder of the environmentally focused media production and climate research lab, LILI Media & Design Lab.
She was previously anchor of MTV News in Canada, for over a decade, where she interviewed celebs including Tom Cruise, Kanye West, and Adele — and has worked for or had stories appear on NBC, MTV and the Discovery Channel. Among the many shows she helped develop at MTV Canada, MTV IMPACT was a show for millennials about social and environmental issues that sent her on assignment around the world, and set the path for her career: from South Sudan after a civil war, to the heart of British Columbia's Great Bear Rainforest to see first-hand the potential impacts of a proposed oil pipeline. She returned to the rainforest multiple times for various productions, and became one of the World Wildlife Fund's "Canadians for the Great Bear."