Our annual event – Geographica –  is a dynamic opportunity to gather with explorers, thought-leaders, educators, researchers, photographers, and filmmakers who are opening our eyes and hearts to acknowledge and celebrate the gifts our lands and waters bring to all Canadians.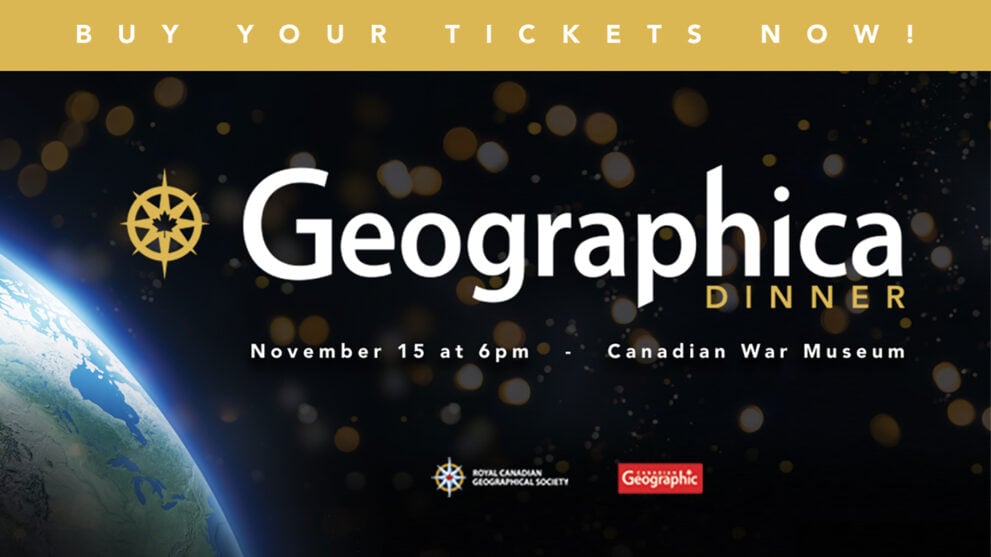 The Royal Canadian Geographical Society is at the forefront of powerful storytelling and cartography and engagement, highlighting and building understanding about the challenges facing our country today – issues such as climate change, biodiversity loss, and reconciliation with the Original Peoples of the lands we now call Canada.
The Geographica Dinner 2023 taking place on Wednesday, November 15th at the War Museum in Ottawa promises to be a joyful and convivial celebration of ideas.   Notable speakers/performers this year include Canadian photographer, filmmaker, and marine biologist Paul Nicklen, and Grammy and Juno award-nominated musician Loreena McKennitt.
This is the Royal Canadian Geographical Society's most important event of the year, and as such it is attended by an illustrious group of dignitaries, astronauts, explorers and community leaders. In the past, speakers have included The Right Honourable Jean Chrétien, Sir Michael Palin, Harrison Schmidt (the last man to walk on the moon), Margaret Atwood, Wade Davis, and the Honourable Elizabeth Dowdeswell, Lieutenant Governor of Ontario.
All proceeds from Geographica will go to support the charitable work of the Royal Canadian Geographical Society. As one of Canada's oldest and largest educational, non-profit organizations, the Society, and its iconic publication, Canadian Geographic, have been our country's most recognized voice for connecting Canadians with the land, culture, and environment in which they live. Canadian Geographic Education, is Canada's largest and most robust non-profit educational organization, reaching students in every province and territory, providing easy access to bilingual resources that are topical, authoritative, and consonant with curricular needs.
Tickets are $275 per person.
If you are interested in purchasing a table of 10 for $2,500 please contact Norman Osman by email at [email protected]
The Fellows Show
During the COVID-19 pandemic, the RCGS celebrated Canadian geography with a virtual variety show, the Fellows Show.
Watch the 2021 Fellows Show!
Watch the 2020 Fellows Show: