An Arctic scientist and educator, Emily Choy has contributed tirelessly to research on climate change and its effect on the Canadian North.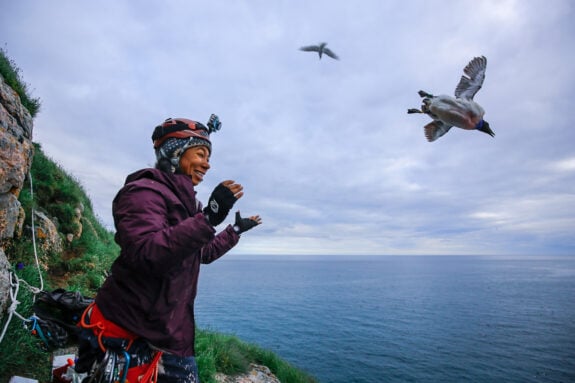 Emily Choy's work studying the impacts of climate change on Arctic marine predators — from belugas to murres and kittiwakes — has taken her to many remote locations across the Canadian Arctic; from the High Arctic on Cape Vera, Devon Island, Nunavut, to Kendall Island in the Northwest Territories, and seabirds cliffs on Coats Island in northern Hudson Bay, Nunvaut.
"It is a tremendous honour to be named an Explorer-in-Residence of the Royal Canadian Geographical Society, and as the first female scientist!" says Choy, who added that she hopes her appointment will inspire youth from diverse backgrounds to develop an interest in wildlife issues in the North. 
Choy became hooked on the Arctic when, as a Master's student, she jumped on a research opportunity to study the effects of manmade contaminants on High Arctic food webs on Devon Island (Tallurutit), Nunavut. "When I experienced how out of the world it was and observed the wildlife that are so highly adapted to the Arctic environment, I just fell in love," says Choy. 
Now a postdoctoral fellow in the natural resource sciences department at McGill University in Montreal, her collaboration with the Society dates back to her participation in the 2014 Victoria Strait Expedition to search for the lost ships of the Franklin expedition. She has also been involved with science outreach to youth through Canadian Geographic Education. 
Choy has described the Arctic as an early warning system for the effects of climate change in southern regions, calling the thick-billed murres she currently studies "canaries in the coal mine." Earlier in July, she was the lead author on a study to examine heat stress in large Arctic seabirds. It was published in the Journal of Experimental Biology.
Choy was named an RCGS Explorer-in-Residence in July 2021.
Stories about Emily