Pandher celebrated for spreading positivity and showcasing multiculturalism in Canada
With a smile as infectious as his Bhangra dance moves, Gurdeep Pandher brings joy, hope and healing to newsfeeds across Canada and beyond.
Using the natural and geographic splendour of the Yukon as a backdrop, Pandher dances Bhangra — a traditional dance from Punjab that takes inspiration from the movements of Punjabi-Sikh farmers. The dance celebrates connection to the land and to nature — and Pandher has used the dance form to spread positivity and showcase multiculturalism in Canada.
Tuesday, Pandher was recognized by the Royal Canadian Geographical Society with the 2021 Louie Kamookak Medal for the national impact he has had by bridging cross-cultural divides, promoting inclusivity and spreading optimism and joy during the dark days of the COVID-19 pandemic.
"This is quite an honour for me," said Pandher, as he received the medal in front of the RCGS flag. "Joining people who love planet Earth, love nature. Really feeling wonderful and amazed by this." 
"It's a pleasure for us," smiled back John Geiger, CEO of the RCGS, who presented Pandher with the award. "Thank you for emphasizing the importance of geography, the importance of landscapes and places. You've probably made Yukon better known to the world than anyone since Robert Service [the writer and poet, better known as the 'Bard of the Yukon']."
The Louie Kamookak Medal is named for the Inuit historian and educator and is awarded by the Society to any person or organization that has made Canada's geography better known to Canadians and to the world. It is also awarded for a noteworthy deed that has served to advance the discipline of geography.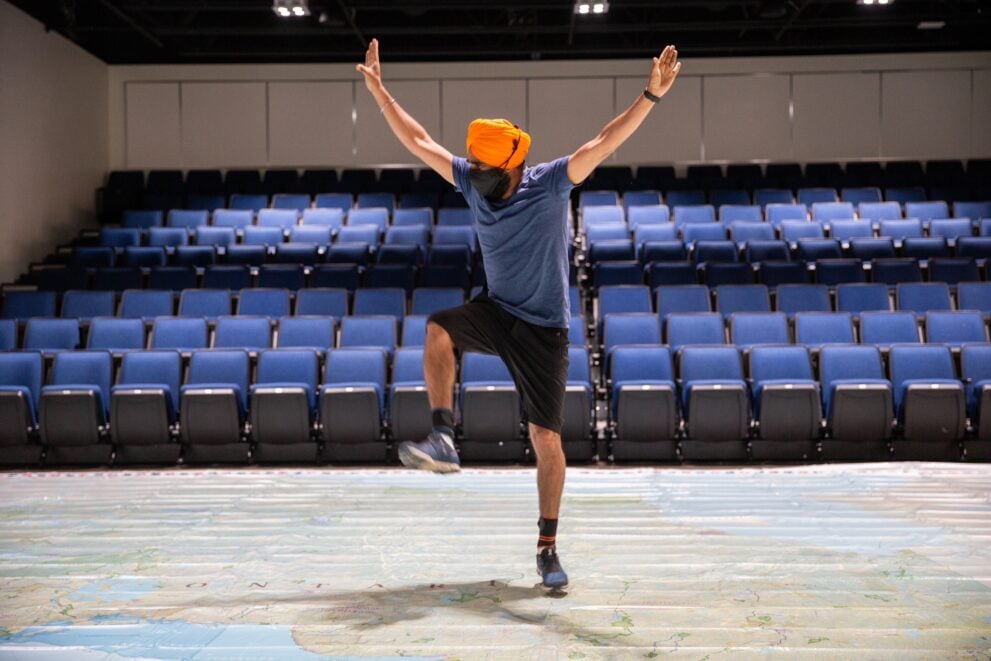 Standing on one of Canadian Geographic Education's Giant Floor Maps, Pandher emphasized the importance of engaging young people with geography in the real world.
"I have had the chance to go into lots of schools. You know, that traditional way of teaching geography, still, is books in many ways," Pandher said. "When we go out[side], we learn more about geography — and everything. Even many more things."
As ravens wheeled under forget-me-not skies, Pandher was even kind enough to teach some Bhangra dance moves to Geiger and assistant editor Abi Hayward.
"Happy! Happy! Happy!" encouraged Pandher, as he made the dance look easy in the heat of the Ottawa day.
Leaving everyone grinning, Pandher left for his next stop of Montreal — to continue spreading joy across Canada, and beyond.