By Sophie Price
"I love being in the Arctic in winter because the light has a different feel when the sun is just barely cresting the horizon," says adventurer and RCGS Explorer-in- Residence Ray Zahab. In March 2022, Zahab and fellow extreme athlete Kevin Vallely hitched their sleds behind them and set out from Ausuittuq (Grise Fiord) at the southernmost point of Umingmak Nuna (Ellesmere Island), Nunavut, with the goal of completing a 50-day, 1,000-kilometre expedition on ski and foot to Alert. Joining them for part of the journey was a small support team of filmmakers and locals. Here's what happened.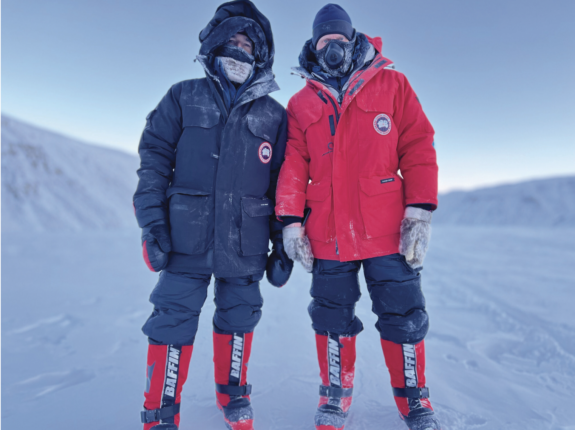 The challenges
In the Arctic winter deep freeze, temperatures reached estimated daytime highs of -30 C and night- time lows of -50 C. These frigid temps were hard on the body in more ways than one. The snow became incredibly abrasive, says Zahab, and hauling a sled felt like dragging it over large chunks of glass.
The duo's original plan of covering 20 to 25 kilometres a day quickly fell apart. When they tried using snow machines (small motorized sleds) to carry some of their gear, they immediately encountered another problem — the snow machines refused to start in the frigid temperatures. Zahab and Vallely quickly realized the expedition was becoming unsafe for everyone, and they made the tough call to end it at Vendom Fiord.
The silver lining
Despite Zahab and Vallely's disappointment, this project was never about testing their endurance. Instead, it was more important for the pair to interact with the community and the land. "These projects where we're given an opportunity, in this day and age, to be able to connect, make new friends and learn about a place from the people who live there every day," says Zahab, "that's the more meaningful part of the expedition now for me."
What's next
The modified plan is for the team to return to Ausuittuq in March 2024 to complete the expedition by foot and dogsled. In the meantime, Zahab has plans to travel to the eastern Arctic and to the Suguta Valley in Kenya.