By Christina Frangou
It was the second week of July 2022. Noah Booth looked out at 360 kilograms of packs, food and canoes dumped onto the Northwest Territories floodplain and knew the task ahead was ambitious. 
Over the next month, Booth — along with his childhood friend Alex Traynor and brothers Kyle and Graham Ereaux — planned to canoe about 850 kilometres, mostly upstream, through the Northwest Territories and Nunavut until they reached the Arctic Ocean.
"The Arctic has appealed to us for a long time," explains Booth, 31, who has completed a canoe trip every summer with Traynor since they were kids growing up in Nova Scotia. "We wanted to see as much as we possibly could, and we thought the best way to do this was through a cross-section of the different ecozones up there."
The route they designed for this Royal Canadian Geographical Society-supported expedition would take them through one of Canada's most remote regions, beginning in the boreal forest at the east end of Great Slave Lake and moving north along Kaché Kaɂá, or Pike's Portage, a historic route used by Indigenous people to reach caribou hunting grounds and, later, by trappers and explorers. Today, much of Kaché Kaɂá falls within the national park reserve Thaidene Nëné and is managed by the Łutsël K'é Dene First Nation, Northwest Territory Métis Nation, Deninu Kųę First Nation and Yellowknives Dene First Nation.
The paddlers planned to tour the Contwoyto River, where, in 1821, explorer John Franklin lost his notes and nearly died trying to cross the waters after a failed attempt to survey the Northwest Passage. Eventually, they'd wind into the Mara River, with its series of wind-exposed rapids and narrows, and then the Burnside River where they'd meet a swift downstream current to whisk them into the Arctic Circle. They'd set the finish line at Bathurst Inlet, a bay on the Arctic Ocean where a floatplane could land safely to carry them back to Yellowknife.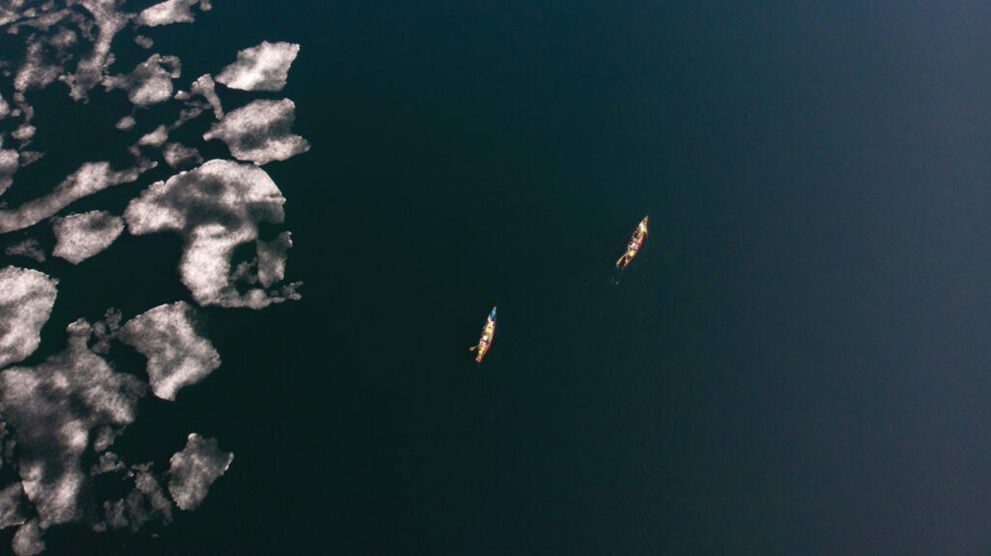 "We were going from a low height of land to a high height of land without ever making much of a descent," says Graham. People familiar with canoeing in the area "thought we were nuts."
First, though, the foursome had to get to their starting point at Kaché Kaɂá, about five kilometres from where the floatplane deposited them. It took them 10 hours and three trips, carrying up to 45 kilograms a time, to shuttle their gear to the campsite at the water's edge.
That night, they fell into their tents, exhausted and hot, the first of 29 nights they'd spend baking in their sleeping bags under the northern sun's ceaseless summer rays.
The next morning as they prepared coffee, Booth heard a clip, clop, clip, clop sound at the edge of their campsite, like a horse trotting on pavement. About 20 metres away, he spotted a giant muskox sauntering across a rocky outcrop, its long hair swaying like "some sort of goddess," he says. None of the four had seen a muskox before, though the animal was high on their list of must-sees. They stood in awe and watched the animal, a combination of ice age survivor and modern star of a shampoo commercial. 
But once it moved on, they kicked into gear. The group knew they needed to maintain a relentless pace — an average of 32 kilometres a day — to make it through their planned route on time. They'd chewed up every vacation day they could spare from their day jobs — geologist (Booth), marketer (Traynor), tree planter and musician (Graham Ereaux) and lawyer (Kyle Ereaux) — and they had return flights booked out of Yellowknife.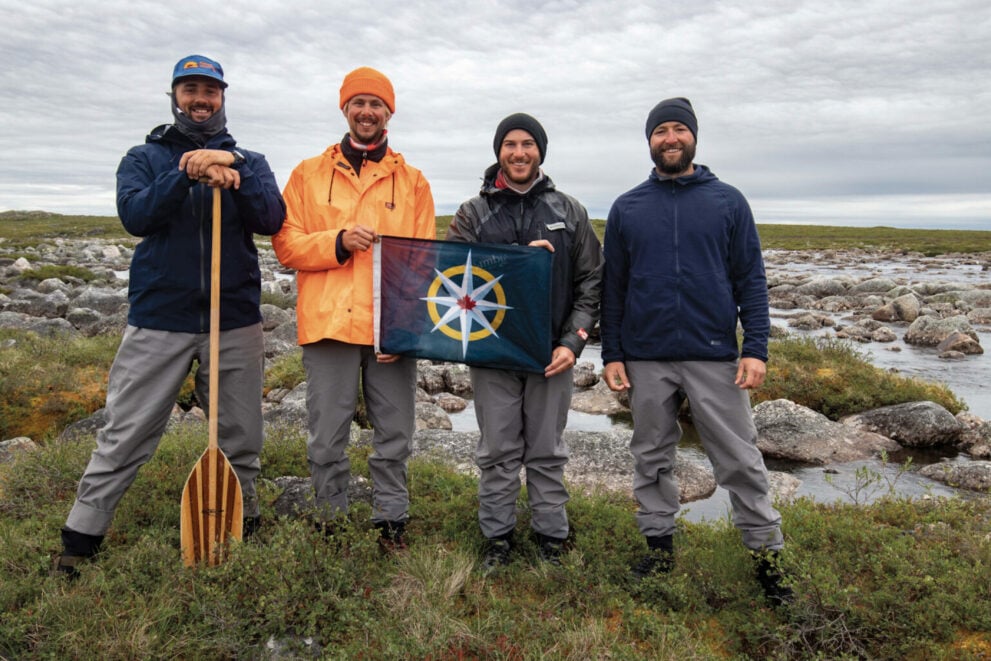 The first five days of the journey were sunny and windless as they pushed their way along Kaché Kaɂá, through nine chilly lakes and over eight grueling portages. They began to question if their three bottles of sunscreen were enough under the sun's bright rays.
Their next big challenge: three of the largest lakes in the region — Artillery, Clinton-Colden and Aylmer lakes. They hoped to move quickly through these bodies of water, with the goal of covering 40 to 50 kilometres a day to make up for lost time.
As the foursome neared Artillery Lake, they expected to see blue-grey waters, trimmed by a sky of a similar shade and a rocky shore. Instead, they found a surprise: a white expanse stretched out before them.
Ice break-up always lingers into the summer in the North, so the group was prepared for some ice — but not like this. And as they pressed on, the ice floes grew larger, blending into one frozen sheet. On the horizon, the paddlers saw what appeared to be a milky blue glacier.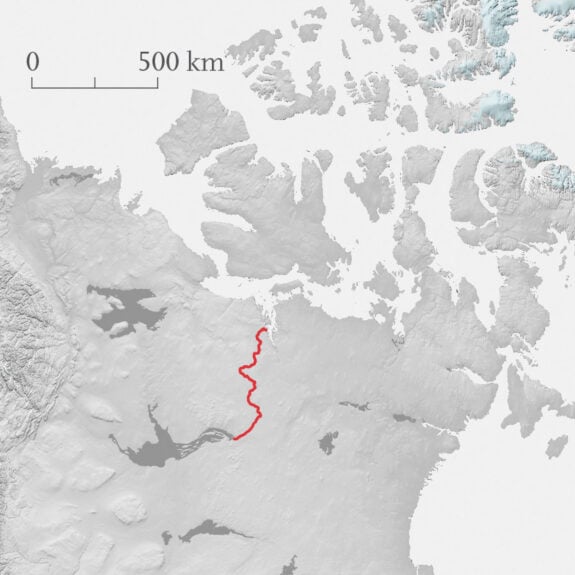 The ice forced the canoes to shore. The group clambered out of their boats and climbed a small hill to look out over the lake and plan their route of attack. As they passed a set of binoculars among themselves, trying to figure out how to navigate past the glacier ahead, they realized something: the glacier was a mirage, created by the contrast between the hot summer air and the cold winter ice pack. There was no glacier, only ice as far as the eye could see. 
"We realized then that we were contending with what would end up being a pretty large hurdle that we would have to overcome," says Graham.
Ice has always been a defining factor for travel in the region. Subarctic Indigenous peoples originally used snowshoes, sleds and toboggans to travel distances in winter and switched to canoes once the ice had thawed. Warburton Pike, an eccentric explorer from England for whom Pike's Portage is named, explored Canada's North in the 1880s and '90s and wrote two books about his expeditions. In them, ice is a recurring character, upending the plans of anyone seeking to travel through the area.
More than a century and a quarter later, Booth and team, despite their modern equipment, found themselves confounded by the same barrier. "It's very humbling to see how ice still dictates all sorts of travel up there," says Booth.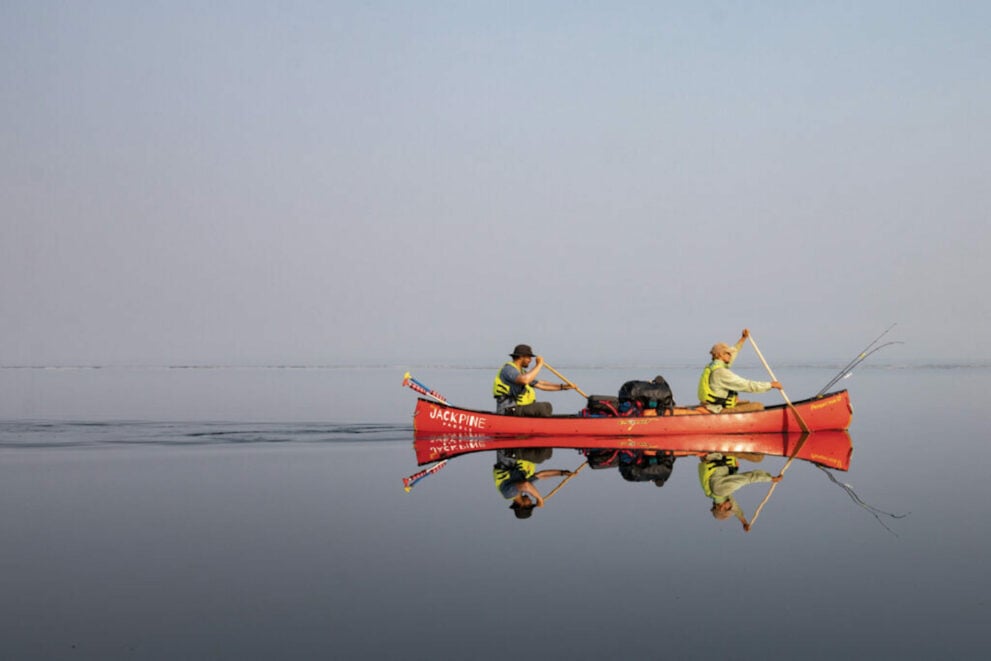 Ice continued to bedevil them. They spent much of the next week walking around the shoreline and pushing ice out of their way. "It was super slow," say Booth. The canoeists pressed on, knowing that, with one windy day, the ice could blow apart and open passage for them. But the wind never arrived.
"There's nothing we could have done. We just had to sit and watch and go with the flow of nature," says Booth.
They hoped that the next stage of the journey through the Back River, with its 50-kilometre downstream stretch, would change their fortunes. It wasn't to be. When they arrived, they found a dry riverbed. Instead of the single day they'd planned to travel the river, they spent three days portaging through the area.
Two weeks into the trip, the foursome made the difficult call: they would end their adventure somewhere short of the Arctic Circle.
The decision set off a "philosophical conundrum," says Booth. "We were trying to figure out what the point of doing a trip is when the purpose of the trip has been pulled out from under you."
They committed to slowing down, sometimes travelling only 15 kilometres a day, and taking in the small scenes they'd been too busy to enjoy in the first two weeks. One morning, while camped on an island, they pulled out a magnifying glass and studied different types of lichen, marvelling at how slowly it grows yet still survives in harsh conditions.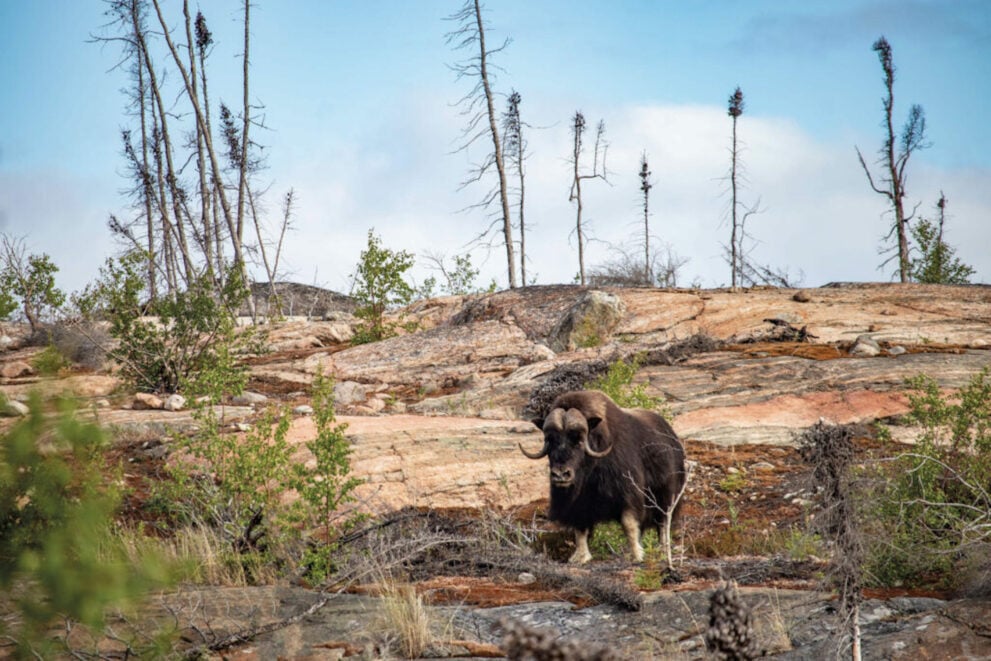 The four men were struck by how far they could see once they were in the barren lands without trees for perspective. Mountains in the distance looked gargantuan but proved quite tiny by mountain standards as they drew close. The air—free of pollen, dust and pollution — felt extra crisp. 
"It was the land of opposites," says Graham. "You have these massive, massive landscapes. But if you want to sit down and soak up nature, that [means] looking at the smallest details, like how lichens form on rocks or the tiniest plants that are somehow surviving up there."
One day, they noticed odd black specks in the distance: a herd of muskox, running, their thick manes bouncing.
At the same time, the paddlers observed a notable presence of death. They frequently spotted animal bones that had neither decayed nor moved over time — they had remained frozen in place for years.
In the evenings, they fished to supplement their carefully planned, 3,000-calorie-per-day diet. They caught and feasted on different varieties of trout, fatter and bigger than what they were used to back home. The lakes felt "very alive," says Graham, perhaps more akin to what rivers in British Columbia were like before overfishing and climate change affected life in its waters. But even with the abundance of fish, the team was burning calories at a rate far beyond their caloric intake. They lost two to seven kilograms each over the four weeks. 
They ended the trip at Contwoyto Lake, which they estimated to be 300 kilometres short of their planned finish. And they're already considering a return trip. Like Warburton Pike, they're waiting for the right moment when Mother Nature clears a route for them.
"One lesson I consistently learn on these trips is how important patience is," says Booth. "Sometimes I just want to go and do the hard work. But there's nothing we could have done."