Award recipients honoured in the first virtual Annual General Meeting and Fellows Show
From scientists to explorers to educators to artists, each year The Royal Canadian Geographical Society presents exceptional individuals with awards that recognize their contributions to geography, to the Society and to the Society's mandate — in the words of Society founder Charles Camsell — "to make Canada better known to Canadians and to the world." This year is no exception.
Here are the individuals the Society recognized this year — and who were awarded their medals on the occasion of the Society's Annual General Meeting on Nov. 17 and the Fellows Show on Nov. 18.
2020 Massey Medal: Dr. John Smol
Dr. John Smol has shifted how we think about the Canadian landscape — and how we monitor and assess its ecology. From the northern stretches of Ellesmere Island in the Arctic to the southern border, from the coasts of the Pacific eastward to Newfoundland, Smol has explored how our ecosystems have changed — both over time and over geography.  An ecologist, limnologist and palaeolimnologist, Smol has taken a novel approach  to studying lake and river sediments — techniques he developed in Canada that have since been adopted all over the world, leading to better protections for lake ecosystems.
Not just a scientist, Smol is a champion for the ecosystems he and his team have studied, explaining the science to students and the general public alike — to help people grasp the realities of climate change and rapidly changing polar regions. Smol now holds the Canada Research Chair in Environmental Change at Queen's University, where he founded, and now co-directs, the Paleoecological Environmental Assessment and Research Lab (PEARL), which is dedicated to the study of long-term global environmental change. In 2013, he was made an Officer of the Order of Canada.
The Royal Canadian Geographical Society is proud to award the Massey Medal to Dr. John Smol for his outstanding contributions to environmental science — and how we understand it.
2020 Camsell Medal: Keith Exelby
Not many have contributed to the Society in the same way as Keith Exelby. After becoming a fellow in 2005, he has taken on many demanding roles: Treasurer since 2007; chairing the Finance Committee; chairing the CGE Management Board; and chairing the Audit Committee. 
As the Society, and Canadian Geographic, have weathered the storm of a challenging economy, and declines in print advertising, Exelby has been a steady presence at the Society's financial helm. With his leadership, the Royal Canadian Geographical Society has grown into a successful custom publishing business and moved to the flagship location at 50 Sussex Drive, Ottawa. Exelby is an individual who has truly left the Society in a better place than he found it in. 
The Royal Canadian Geographical Society could not have asked for a better Treasurer and friend, and is proud to award the Camsell Medal to Keith Exelby for his long-standing commitment.
2020 Camsell Medal: Joan and Doug Heyland
The RCGS would not be able to fulfill its mandate without its volunteers. Joan and Doug Heyland are exemplary volunteers who have given many years of tireless work on various Society committees.
Doug, a former Executive Director of the Science Institute of the North West Territories,  joined the Research & Grants Committee more than two decades ago.  He was on the committee for eight years, from 1997 to 2004. Joan, an educational consultant  in the North West Territories and Nunavut, subsequently joined that same committee in 2006. During their respective terms on the committee, both Doug and Joan were fair and considered in their evaluation of proposals to the committee, and highly supportive of the students who benefitted from those programs.
Doug also brought his pragmatism and focus — and a wealth of experience from having founded his own consulting firm — to the Audit Committee from 2003 to 2011. Joan also served on the Fellows Committee from 2009 to 2011, helping to welcome 80 new Fellows to celebrate the Society's 80th anniversary — a momentous feat during which Joan was uncompromising in her efforts to ensure that the Society better reflected 21st century Canada .
Serving as voluntary members, Doug and Joan's incredible dedication to, and ambassadorship of, the Society makes them very worthy recipients of this award.
2020 Martin Bergmann Medal: Jason Edmunds
Jason Edmunds is a remarkable leader, a gifted logistician and an expert Arctic guide. An Inuk from Nunatsiavut, Edmunds leads Adventure Canada expeditions in the Arctic with thoughtfulness, sensitivity, graciousness and calm. Edmunds has developed personal relationships with staff on his expeditions — from Inuit culturalists, guides and biologists to musicians, painters and archaeologists — developing a culture of empathy such that his guests return home with knowledge, wisdom and newfound appreciation for Inuit and Arctic ecosystems.
Edmunds sits on the board for Travel Nunavut, the Indigenous Advisory Circle for the Peel Region School Board and the Toronto Inuit Association. He has worked as assistant director and Indigenous liaison for the Labrador Winter Games and monitored populations of polar bears. He is also a proud member of the Royal Canadian Geographical Society and of the Explorer's Club. His belief in travel as a transformative, cultural and educational experience comes across not just to travelers, but to everyone he meets.
The Royal Canadian Geographical Society is proud to award The Martin Bergmann Medal to Jason Edmunds for his impressive leadership, mentorship and advocacy for Arctic peoples and environments.
2020 Lawrence J. Burpee Award: Jan Morris
Jan Morris is a distinguished journalist, essayist and historian. Throughout her long career, her work has been ground-breaking, from her history-making reportage on the conquest of Mount Everest to the personal journey described in her 1974 autobiography Conundrum, which was one of the first autobiographies to record the journey of a personal gender transition. The Times chose it as one of "100 key books of our time."
Her travel essays are imbued with a true sense of place and people — and she wrote on places ranging from Trieste and Venice to South Africa and North America. Her 1992 book O Canada: Travels in an Unknown Country was a deep exploration into our country's psyche through 10 vignettes of Canadian cities and towns.
Her 1985 novel Last Letters from Hav was shortlisted for the Booker Prize for Fiction. Morris has accepted honorary doctorates from the University of Wales and the University of Glamorgan, is an Honorary Fellow of Christ Church, Oxford, and a Fellow of the Royal Society of Literature. She was awarded a CBE, one of the highest-ranking Orders of the British Empire, in 1999.
The Royal Canadian Geographical Society is proud to award the Lawrence J. Burpee Medal to Jan Morris for her inspirational writing on a sense of place and contribution to our knowledge of human and physical geography.
2020 Joseph-Elzéar Bernier Award: Col. Brian Hodgson
Brian Hodgson is someone who opens doors. Hodgson has served as Sergeant-at-Arms and Director of Visitor Services at the Legislative Assembly of Alberta through eight general elections and 11 by-elections. He was a vital part of the planning and execution of both the visit of Her Majesty Queen Elizabeth II and Alberta's provincial centennial. Over a long career, Hodgson has been awarded the Queen's Golden and Diamond Jubilee medals, the Canada 125 medal, the Alberta Centennial medal and the Canadian Forces decoration with two bars. 
In addition to these incredible accomplishments, Hodgson has contributed his dedication and drive to the Society in his capacity as Governor (2009 to 2015), a member of the Fellows Committee (2008 to 2017) and in his role in the creation of the Advancement Committee. He has been an advocate for increasing the regional diversity of Governors on the Board in order to strengthen the national nature of the Society. Hodgson has been instrumental in securing several major donors and opened a number of doors to enhance the prominence of the Society.
The Royal Canadian Geographical Society is proud to award the Joseph-Elzéar Bernier Medal to Col. Brian Hodgson for his contribution to strengthening and raising the profile of the Society.
2020 Joseph-Elzéar Bernier Award: Dr. Ken Hedges
Honorary Colonel and Fellow Dr. Ken Hedges was awarded this medal earlier in 2020. Hedges served as medic on the British Trans-Arctic Expedition in 1969 — the first undisputed expedition to reach the Geographic North Pole on foot. Hedges donated the Nansen sled, tent and wolf-skin parka he used on the expedition to the Society to display at their headquarters at 50 Sussex, Ottawa. Read this interview with Hedges to learn about his experiences on the expedition.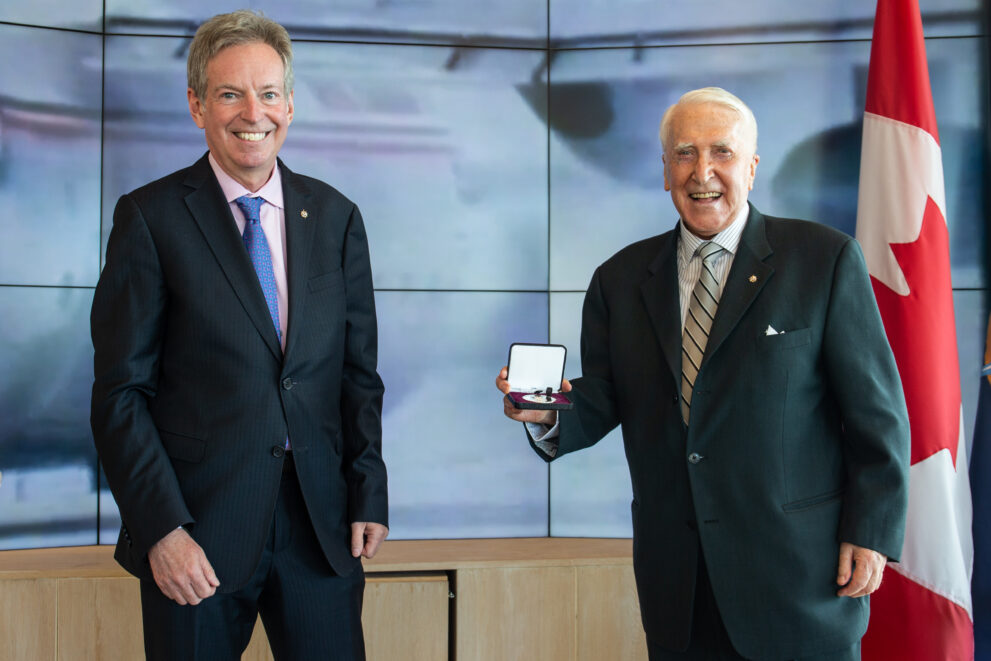 2020 Sir Christopher Ondaatje Medal for Exploration: David Jones
Few have such intimate knowledge of Canada's mountains as David Jones. A mountaineer, explorer, climber, photographer, writer, mentor and advocate, Jones has followed a passion for mountains not just for his own knowledge, but to share his insights with Canadians and the world. He has scaled more than 1,000 peaks and has over 100 first ascents under his belt. Jones has authored five guidebooks, with routes extensively researched and photographed, from the iconic Rockies to the Selkirks in B.C.'s Columbia Mountains.
More recently, Jones' photographs have been recognized by the Mountain Legacy Project, and are an important part of their work in documenting changing mountain environments. 
The Royal Canadian Geographical Society is proud to award the Sir Christopher Ondaatje Medal for Exploration to David Jones for his prowess in exploration of, and education about, Canada's mountain ranges.
2020 Louie Kamookak Medal: The Honourable Nellie Taptaqut Kusugak
Nellie Kusugak is a Canadian educator who served as Commissioner of Nunavut from 2015 to 2020, having served as Deputy Commissioner of Nunavut for five years beforehand. She is an educator from Rankin Inlet who taught for about two decades in both Inuktitut and English — and has an extensive expertise in traditional and cultural education as a means of preserving and strengthening Inuit culture, tradition and language. She has also trained new teachers through the Nunavut Teachers Education Program and she is an adjunct professor at McGill University.
Kusugak served as Vice-Patron of the Society, and has attended several events, including Fellows Dinners and Giant Floor Map events, in addition to presenting Society honours.
The Royal Canadian Geographical Society is proud to award the Louie Kamookak Medal to The Honourable Nellie Taptaqut Kusugak for her extensive contribution to Canadian education.
2020 Louie Kamookak Medal: The Honourable Elizabeth Dowdeswell
The Honourable Elizabeth Dowdeswell is the 29th Lieutenant Governor of Ontario, an Officer of the Order of Canada, an Officer of the Order of Ontario, holds 11 honorary doctorates and is the recipient of numerous fellowships, including that of the Society. She is the vice-regal representative of the Queen in Right of Ontario, and has also called herself Ontario's unofficial "Storyteller-in-Chief." And what a story she has to tell.
Dowdeswell has also represented Canada internationally as the Under-Secretary-General of the United Nations and Executive Director of the United Nations Environment Programme. She served as an adjunct professor at the McLaughlin-Rotman Centre for Global Health at the University of Toronto, in addition to being the founding president and CEO of the Nuclear Waste Management Program, later becoming the president and CEO of the Council of Canadian Academies, before her appointment as Lieutenant Governor.
She has also been an unwavering supporter of the Society, having attended numerous events, and having presided over the presentation of Society medals a number of times.
The Royal Canadian Geographical Society is proud to award the Louie Kamookak Medal to The Honourable Elizabeth Dowdeswell for her contributions to Canada and for her steadfast support of the Society.
2020 Alex Trebek Medal for Geographic Literacy: Lisa (Diz) Glithero
Diz Glithero is a leading educator who inspires everyone she meets. She is an adjunct professor and research associate at the University of Ottawa, the National Coordinator for the Canadian Ocean Literacy Coalition and a course consultant for the Office of First Nations and Inuit Education at McGill University. She served as Education Director for Students On Ice between 2004 to 2008 and still serves as Chair of the SOI Education Advisory Committee.
She was the Education Lead for the iconic Canada C3 expedition, on which her passion and commitment for transformative education was contagious. Her core principles of inclusion, reconciliation and taking responsibility are all qualities that makes her an exceptional leader and educator.
In 2016, Glithero was recognized with a Meritorious Service Award by the Governor General of Canada for her work in youth engagement and environmental education. In 2018, she received both the Outstanding Educator of Year award from the Canadian Network for Environmental Education & Communication and the Ocean Education Organization Award from Ocean Wise.
The Royal Canadian Geographical Society is proud to award the Alex Trebek Medal for Geographic Literacy to Lisa (Diz) Glithero for her inspirational commitment to connecting youth to the natural world and developing geographic leaders.
2020 Innovation in Geography Teaching Award: Peter Cameron
Peter Cameron has been a teacher for more than 25 years, inspiring students to make a difference to the world with his contagious enthusiasm and desire to bring adventure and exploration to the classroom. Teachers from across Canada — and the world — have become "Difference Makers" through Cameron's Make A Difference project, which took a solutions-focused approach to galvanize students to create creative solutions to tackle the world's problems.
Cameron co-wrote the first Google Earth teacher-authored Voyageur Stories, "Blue Gold," allowing students to travel virtually around the Great Lakes, instilling not just a sense of adventure, but a need to protect these environments. Cameron also established the "Junior Water Walkers" to honour Anishinaabe Elder and water activist Josephine Mandamin and continue her work in raising awareness about the importance of freshwater. He is also a National Geographic Teacher Fellow and Education Mentor.
The Royal Canadian Geographical Society is proud to award the Innovation in Geography Teaching Award to Peter Cameron for his geography leadership both within, and beyond, the classroom.
Honorary Fellowship: The Right Honourable Justin Trudeau, Prime Minister of Canada
The Society has chosen to award Canada's 23rd Prime Minister with an Honorary Fellowship for his passionate commitment to our environment, including his government's leadership on climate change, its historic investments in Indigenous-led nature conservation and Indigenous Guardians programs, and its action on Ocean conservation and protection, including its leadership in reducing plastic waste. In accepting the honour at the 2020 Fellows Show, Trudeau said "I share this with Indigenous communities, young Canadians, activists, and all Canadians who are helping to protect our land and oceans and who are partnering with us in the fight against climate change."