The Royal Canadian Geographical Society has teamed up with Roots to produce limited edition, lightweight reusable face masks featuring the Compass Rose.
Support the Society and keep your loved ones safe, with proceeds from each mask sale going towards supporting the critical education programming of the Society. Our masks are proudly made in Canada.
Purchase your mask in our Society Shop now.
The Roots Reusable Face Mask is a washable and reusable non-medical mask, meant as an additional measure you can take to protect those around you, without needing to use medical masks that should be reserved for frontline workers. All masks are handmade in Canada at the Roots Toronto Leather Factory, where they've repurposed their manufacturing operations to help fight the spread of COVID-19.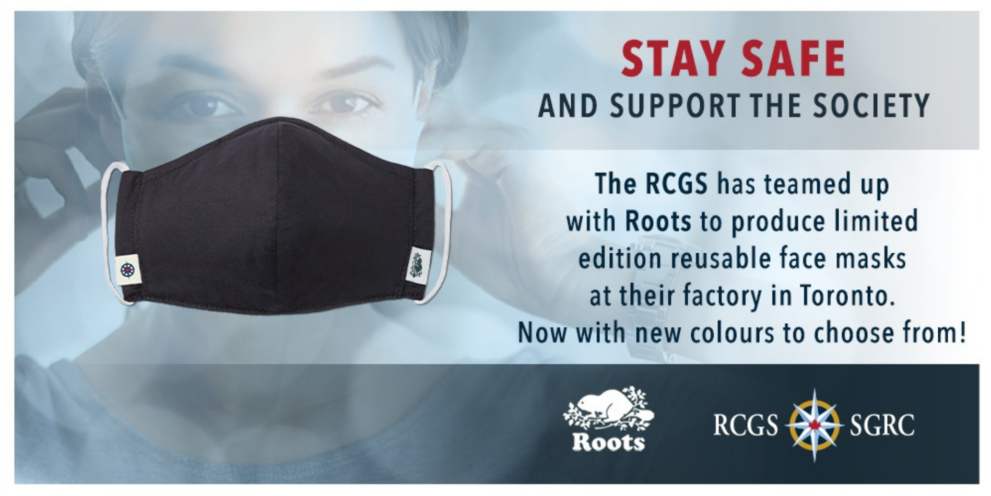 The mask also has a slip pocket that can be used to place a filter material within, including any kind of HEPA filter, which may improve effectiveness. Face masks can become contaminated on the outside, or when touched by your hands. If the mask becomes damp or soiled, wash the mask in a laundry bag using a hot water wash. Please also wash before first use.
Masks are sold individually and the mask colour you receive may vary. At this time, we are making masks in limited quantities and restocking them online as soon as possible.