Have you ever wanted to know what goes on behind the scenes at the Toronto Zoo or the Royal Botanical Gardens? What if you could go on a day hike with explorer George Kourounis or scuba diving with Explorer-in-Residence Jill Heinerth? Maybe an eight-day Mediterranean cruise or a two-day train journey through Western Canada sounds exciting. No matter your interests, this year's RCGS Silent Auction has something for you. 
Since 1929, The Royal Canadian Geographical Society has been making Canada better known to Canadians and the world. As the country's most recognized voice for connecting Canadians with their geography, the Society has been supporting geographical expeditions for nearly a century while also providing grants and scholarships for cutting-edge geographical research. Donor support is critical to helping us continue our mission, which is why we're excited to announce that our 2022 virtual silent auction is now open for bids.
Along with some behind-the-scenes educational experiences, this year's auction also includes more than a dozen incredible trips from B.C. to Egypt and several opportunities to get to know some well-known explorers. Just in time for the holidays, the auction also includes items such as books, clothing, paintings, soapstone carvings and even a complete set of RCGS trading cards.
Take a look at some of the incredible items up for auction below, and browse all of the available items on the auction website. Bidding closes November 18, so don't wait!
The Royal Canadian Geographical Society gratefully acknowledges the generosity of those who donated trips, experiences and items to support our fundraising efforts.
High Arctic Explorer with Adventure Canada 
Experience the Arctic in style with this 12-day High Arctic Explorer Expedition for two. Visit Beechey Island National Historic Site, and marvel at icebergs at Ilulissat Icefjord, a UNESCO World Heritage Site. Then cruise pristine natural areas, and explore the west coast of Greenland.
This perfect itinerary created by Adventure Canada includes Zodiac excursions, evening entertainment and guided activities, all aboard the High Arctic Explorer. Enjoy the best of the High Arctic from the luxury of a Comfort Twin cabin where you can marvel at the wonders of the North.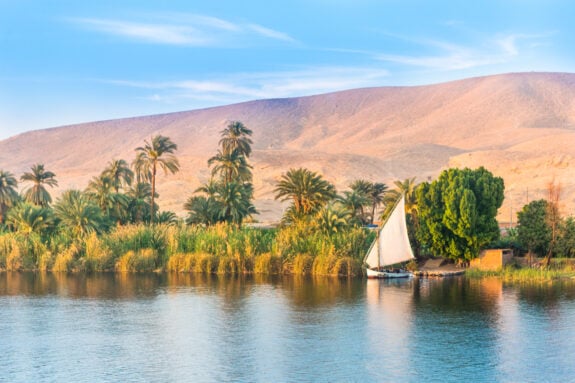 Egypt Nile Cruise with Joe Frey
Embrace your inner Indiana Jones with this once-in-a-lifetime experience down the Nile. With four nights on the legendary river and four nights in a luxury hotel, this adventure will lead explorers to the most iconic locations in Egypt, from the Great Pyramids to the Treasures of King Tut. Since 1974, Exodus Travels has specialized in cultural, walking, cycling and wildlife tours to more than 100 countries and will ensure you have a perfect adventure.
Following in the footsteps of pharaohs and kings, this fascinating historic tour will take you through Egypt with writer, historian and RCGS Governor Joe Frey. First, delve into ancient temples and tombs, then visit the iconic Valley of the Kings, all from the comfort of a Nile River cruise boat. This trip begins in Luxor and travels upstream to watch local life before visiting Edfu and Kom Ombo temples. The lush green banks and the magnificent sunsets over the Nile make for an Egyptian journey of a lifetime.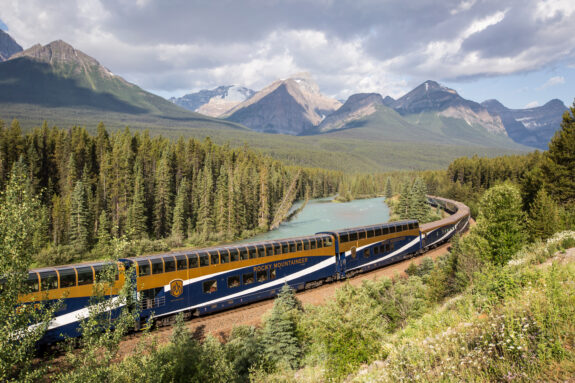 Rocky Mountain Rail Journey
Discover the wild beauty of Western Canada and the Canadian Rockies for two days aboard the award-winning Rocky Mountaineer. Through awe-inspiring scenery, you can indulge all of your senses as you marvel at the wonders of this area while experiencing exquisite cuisine, vibrant storytelling, and impeccable service. For more than three decades, Rocky Mountaineer has been offering genuinely moving train journeys where the majesty of the Rockies meets the luxury of train travel. 
Once settled into comfortable seats in the bi-level glass-dome coach, onboard Hosts will tend to your every whim as you sit back and enjoy the incredible views. Watch the awe-inspiring panorama unfold in front of your eyes as you climb in altitude above rushing rivers and streams. And just when you think you can't get any closer to nature, the exclusive outdoor viewing platform will bring you straight into the great outdoors. 
Throughout the trip, you can also enjoy complimentary drinks and gourmet snacks or head to the GoldLeaf dining room and choose from a chef-designed à la carte menu. Knowledgeable Hosts are also available to answer any questions you may have about the terrain, local wildlife, regional history, and Canadian trivia.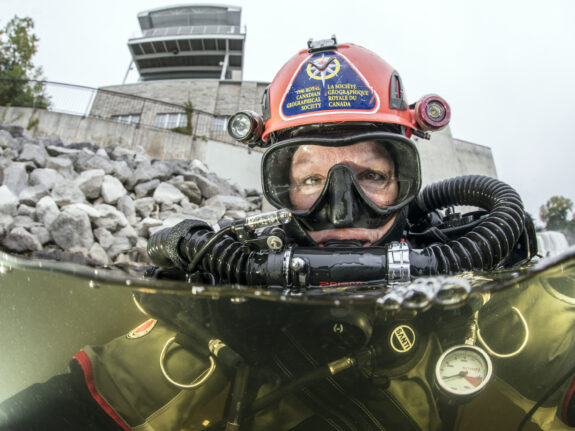 Day with Explorer-in-Residence Jill Heinerth
Embrace your inner explorer during a day of adventure for two with Canadian cave diver and RCGS Explorer-in-Residence Jill Heinerth. This customized experience is being offered in Heinerth's home region of eastern Ontario, where winners can select one of the following activities: pedal a kayak on the Tay Canal near Perth, cycle or take a three-wheeled recumbent Cattrike on the Trans Canada or Ottawa River Rail Trails near Carleton Place, partake in a scuba diving adventure and underwater photography in the Sculpture Park in Brockville (must be a certified diver), take a day hike on the Rideau Trail and visit the locks or learn some photography tips while enjoying a nature walk in Carleton Place. 
This auction item also includes a gourmet picnic to be enjoyed alongside your chosen adventure.
Behind-the-scenes tour at the Toronto Zoo
If you are interested in learning more about what goes on behind the scenes at the Toronto Zoo, then this experience is for you! You and one guest will get the chance to enjoy a fun-filled day at the zoo with a special view. This experience includes complimentary zoo admission for two, a parking pass, and a one-hour, two-animal behind-the-scenes tour. 
The Toronto Zoo has many different animals and plants to learn about from all over the world. From Australasia to Tundra Trek, you will discover many fascinating things as you explore the zoo grounds. Want to know a bit more about some of the animals? Check out the Toronto Zoo's live cameras, where you can watch orangutans and tigers from your home!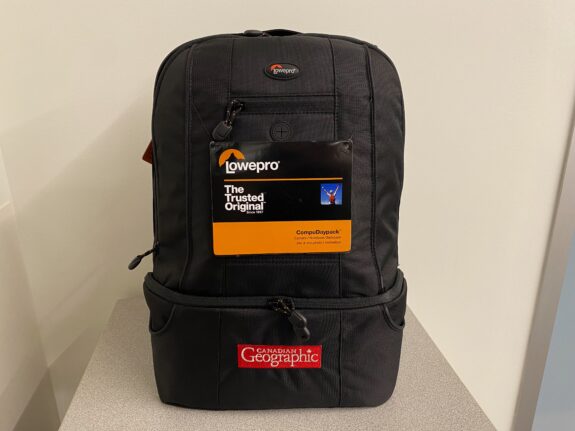 Branded CompuDaypack
Every explorer needs the perfect pack to carry equipment, notebooks, and anything else needed to make the most of each adventure. This Canadian Geographic-branded CompuDaypack is the ideal place to do just that. Lightweight and durable, this daypack will neatly organize all of your gear in style. 
The CompuDaypack Capacity can store two pro SLRs, three to four lenses (up to 105mm f/2.8), flash and digital, MP3 player and audio player accessories. This backpack is incredibly comfortable with a contoured shoulder harness and lumbar support with DryFlo Mesh. The bag also features three compartments that can be used to organize and carry a laptop neatly (up to 17"), digital camera equipment, MP3 player and personal accessories. The NoDrop bottom compartment also opens wide for easy access without spilling gear. In addition, the SlipLock attachment tabs can be used to accessorize with camera pouches, lens cases, a cell phone pouch and more.