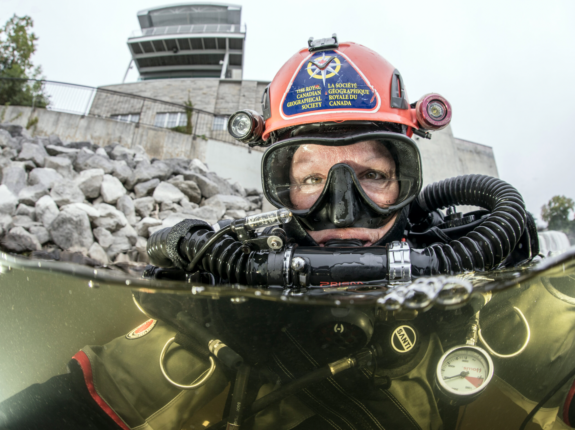 Cave Diver, Underwater Explorer, Author, Photographer, Filmmaker, Explorer-in-Residence at The Royal Canadian Geographical Society, Speaker
More people have walked on the moon than visited many of the places Jill Heinerth has explored on Earth. From the most dangerous technical dives deep inside underwater caves to swimming through giant Antarctic icebergs, Heinerth has been the hands and eyes of climatologists, archaeologists, biologists, and engineers worldwide.
When the largest moving object on the planet, the B-15 iceberg, calved from Antarctica, Jill led a dive team into the labyrinth of frozen underwater caves beneath the massive iceberg's surface, discovering a diverse, colorful ecosystem of life in one of the harshest environments on earth.
From the desert oases of the Sahara to the cold waters of Baffin Bay, Jill Heinerth explore what lies beneath the surface, sharing images of places where no person has gone before. Through collaboration, she becomes the hands and eyes for climatologists, archaeologists, and engineers, extending their reach into the depths.
Jill was named the first Explorer-in-Residence of The Royal Canadian Geographical Society and inaugural recipient of the Sir Christopher Ondaatje Medal for Exploration. She is a Fellow of the International Scuba Diving Hall of Fame, Underwater Academy of Arts and Sciences, Women Diver's Hall of Fame, National Speleological Society, WINGS WorldQuest and the Explorers Club, which recognized her work with the prestigious William Beebe Award for ocean exploration. In 2023 the Victoria University in the University of Toronto honoured Jill for her role as a deep-sea diver, explorer, scientist, author, teacher, photographer, filmmaker, documentarian and environmental advocate with a Doctor of Humane Letters, honoris causa.
The Wall Street Journal, Oprah Magazine, and the New York Times have lauded Jill's best-selling memoir Into the Planet. Dolly Parton selected Jill's children's book, The Aquanaut, for her Imagination Library program. Running Cloud Productions of Australia is currently filming a feature documentary that will be released in 2024.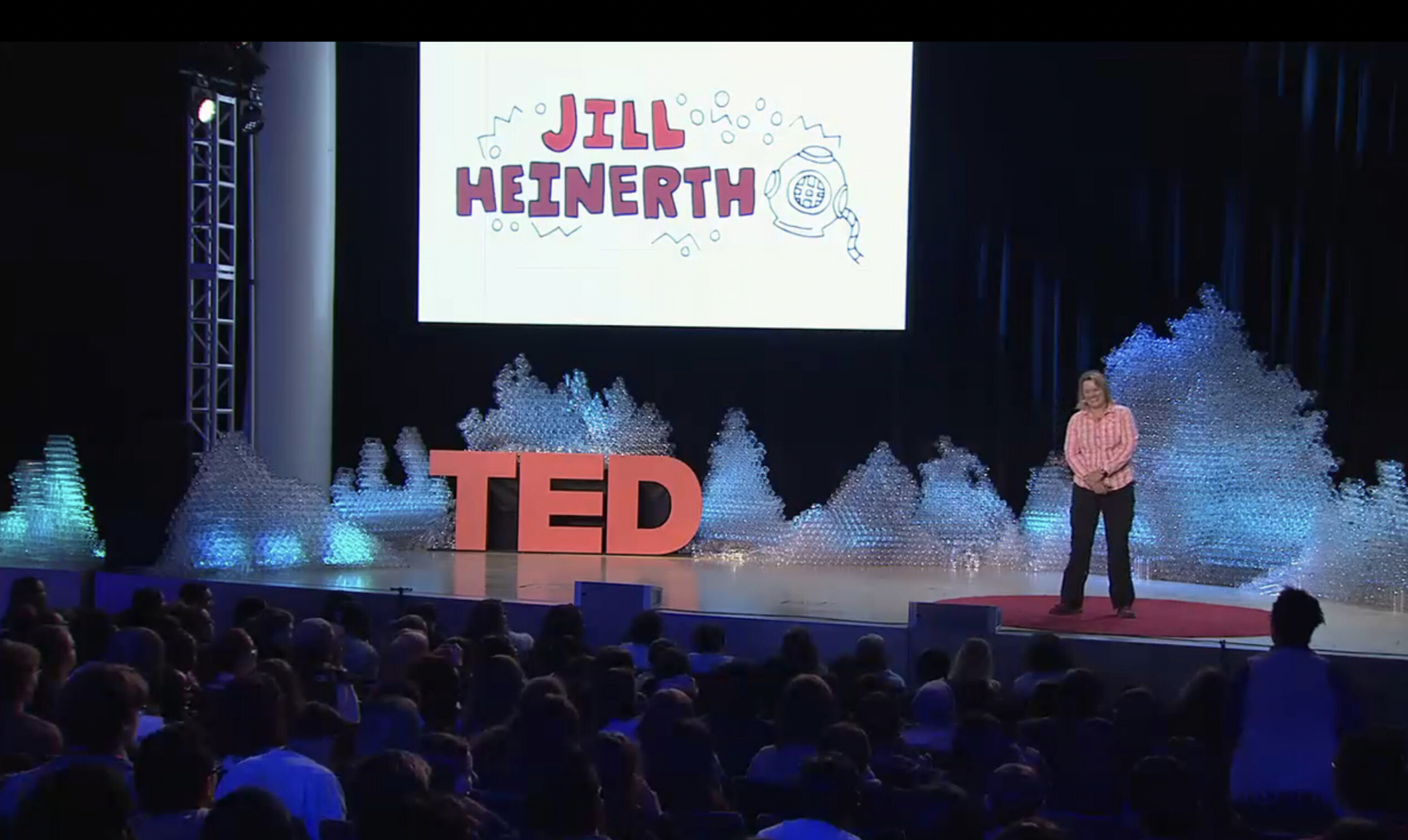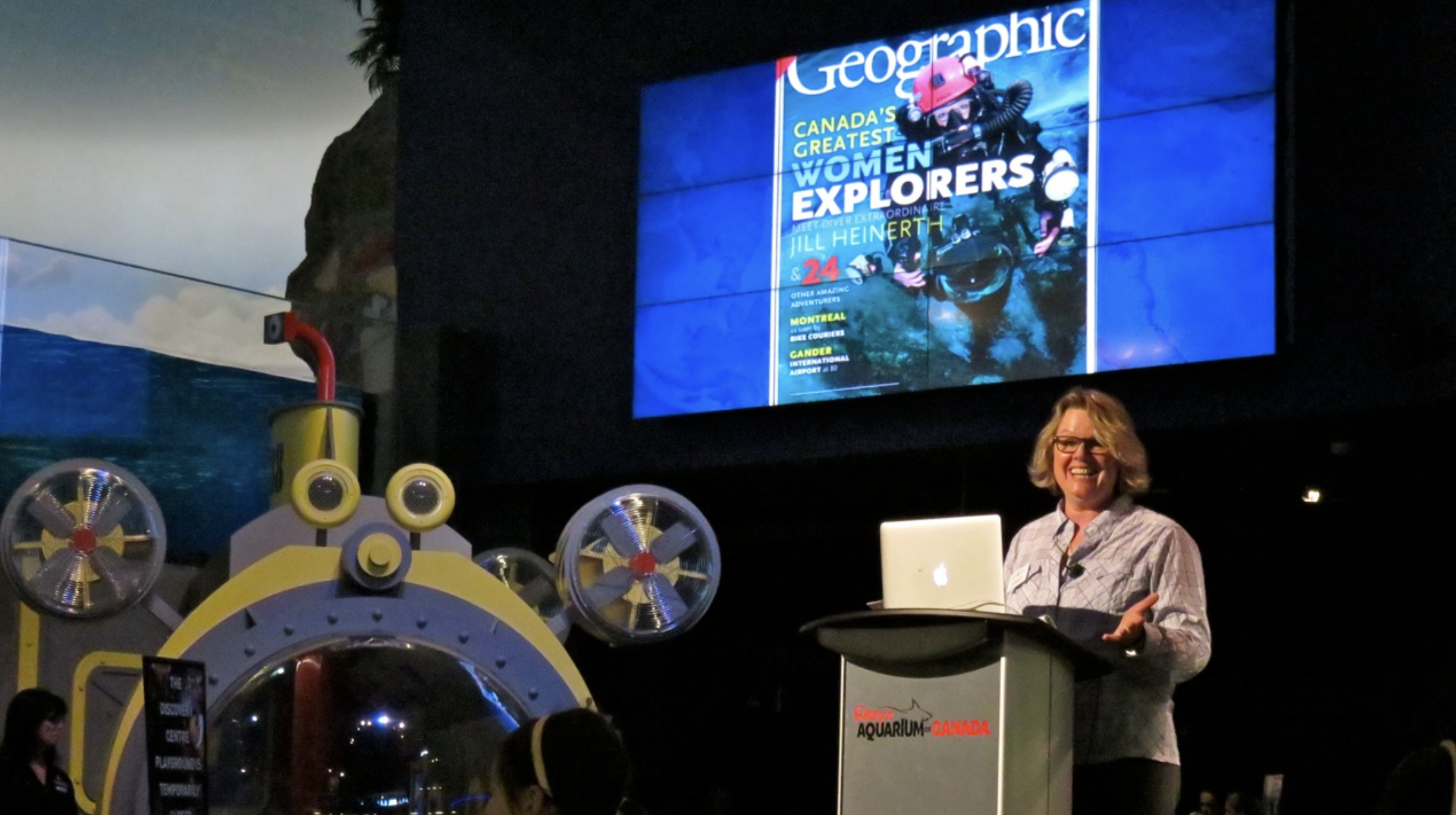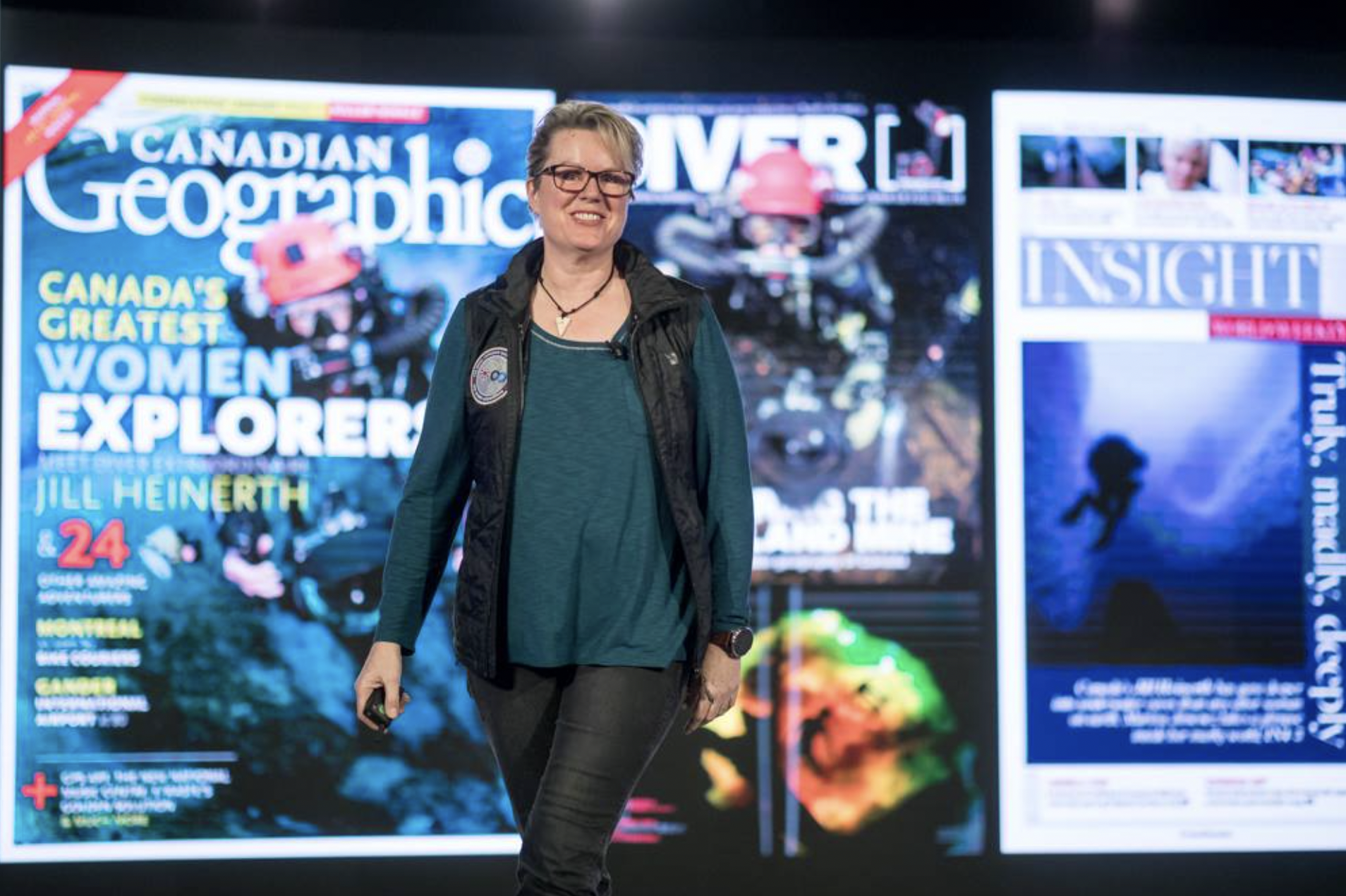 Keynote Presentations
Explorations in Excellence
Jill Heinerth's dynamic multimedia presentation will inspire audiences to reach beyond their limitations, challenge the unknown, and overcome their fears.
More people have walked on the moon than have been to the places Jill Heinerth has explored right here on earth. Instead of following maps, she has blazed a trail into the planet exploring lava tubes beneath the ocean floor, submerged caves inside icebergs, and the deepest recesses of the world's oceans.
She shares remarkable experiences and lessons learned in the deadly arena of extreme underwater exploration and adventure filmmaking, applying her practical knowledge to share lessons on risk management, discovery learning, failure, and collaboration strategies.
Improving the Culture of Safety in High Risk Environments
Good leaders create a safe culture in the workplace, but how is it accomplished? Jill Heinerth addresses three primary categories that relate to risk assessment, leadership, and safety culture, including strategies and tactics for reaching a sustainable, incident-free workplace.
By drawing on her experiences cave diving into some of the most dangerous places on earth, listeners will learn how to apply universal risk management strategies in their own teams and organizations.
The Explorer's Mindset: A Cave Diver's Guide to Fear, Isolation, and Change
There are no handbooks for trailblazers, and too often we allow fear of the unknown to limit us from trying new things. Fear is a survival instinct that helps us avoid danger, but it may also freeze us in our tracks or cause us to run away.
As a cave diving explorer, Jill Heinerth's work takes her to the most remote corners of the planet. Frequently out of touch for weeks or even months at a time, her job is to capture images in the claustrophobic blackness of water-filled caves, where an error on the job may determine her chance of survival. To excel in this work, Heinerth has had to learn how to master fear like no other.
The lessons Heinerth has learned about risk assessment from over 30 years of expeditions offer an edge of your seat thrill woven together with important messages about how to transcend fear and achieve success.
Dive into The Life You Want to Lead
Jill Heinerth leverages her adventurous life experiences to empower every woman to take on new challenges with confidence. Early in her career in advertising, Heinerth shifted gears, pivoting to a remarkable career as a creative professional in the underwater world. But it was not an easy path. Battling misogyny, financial ruin, and a devastating diving accident, she emerged to build a successful life on a road less traveled.
In this presentation, she shares her original vision about mapping a path to success in a non-traditional role while sharing heartwarming human stories about the challenges she encountered and overcame along her journey.
We Are All Interconnected: Protecting Our Planet
Once thought to be infinitely resilient, our water planet is in trouble, and therefore, so are we. With equal parts warning and hope, Jill Heinerth shows us how our lives are interconnected with our water systems and how we can protect them for future generations.
Testimonials
"Jill provided us with an evening to remember and exponentially expanded our appreciation of the stunning beauty and majesty of the world that exists underwater, under the planet's surface." – Chris Baburek,, Mississippi Valley Field Naturalists
"Jill's keynote address was nothing short of brilliance – incredibly entertaining, educational and inspiring. Her video and stills were breathtaking. As part of her talk, she was able to incorporate a number of leadership and team attributes that linked directly to her work as a cave diver, underwater explorer, photographer and film maker and did so with grace, humility and a wonderful sense of humour." – Renee Ruccolo,, City of Windsor
"When someone asks who is the modern-day Jacques Cousteau, the answer as far as we are concerned, is easy… Jill Heinerth." – Jim Standing, President,, Fourth Element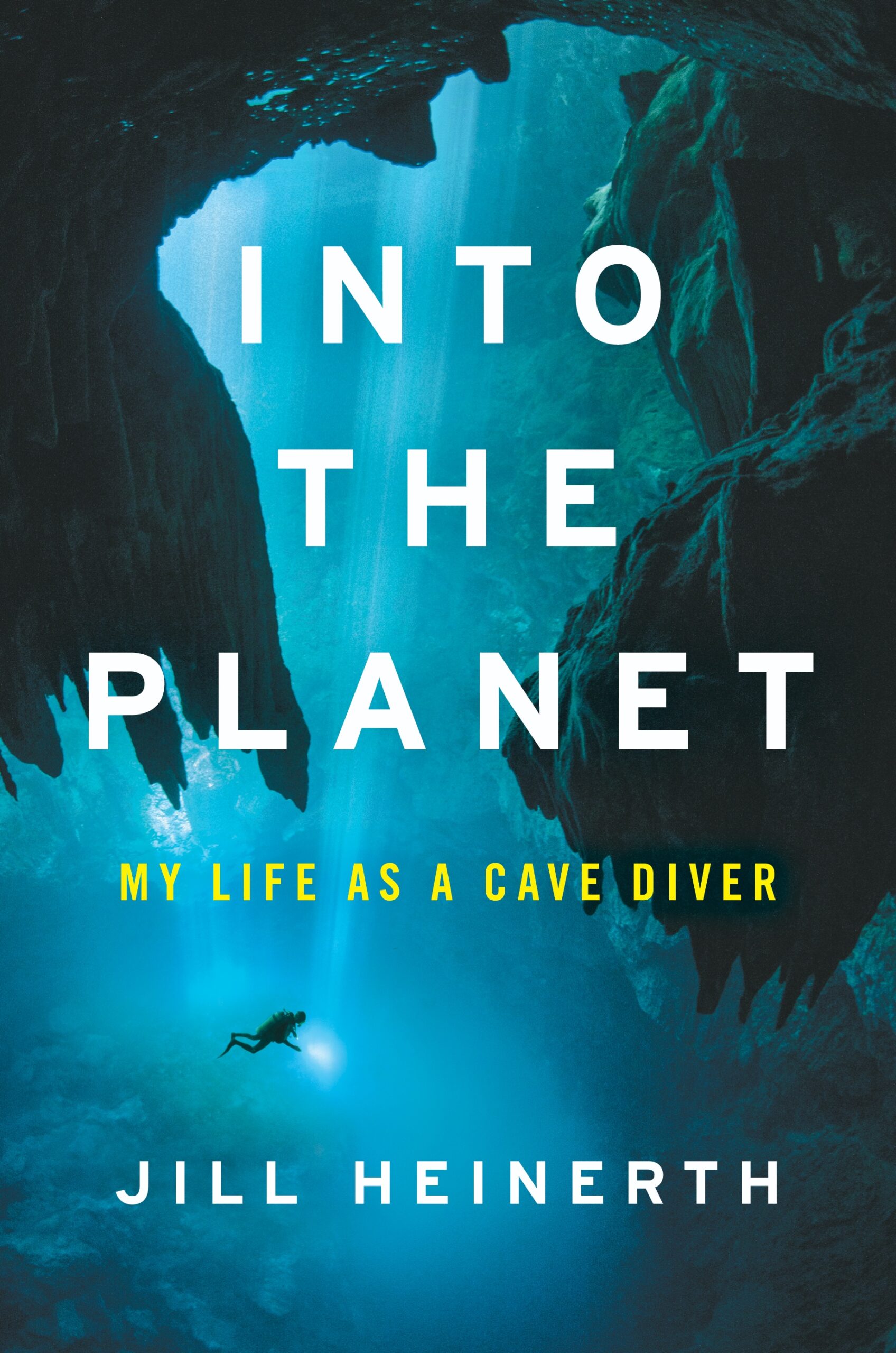 Into the Planet
The Aquanaut